"Cannabis opens up the doorways for us to be more sensitive and be more honest about things like war. People need to understand what it does to veterans who are coming home."
That's the advice from military veterans Donnie Bumanglag and Tony Soto. They have a mission to heal those in physical and psychological need through martial arts, cannabis, and active camaraderie. The two met in Jiu-jitsu class and found each was disillusioned with the options the country offered to returning veterans. In most cases opiates and manufactured pharmaceuticals were the prescribed treatment – numbing the pain instead of addressing the root cause. With a commitment to researching all treatment options, the duo is optimizing the rehabilitation process at their center 45 minutes north of Santa Barbara in a small town called Lompoc.
State of Flow's Mission

They describe themselves as a veterans advocacy group. The goal is help other returning vets navigate this journey of recovery and their reintegration into society. The team found seeking out flow states as one of the most psychologically therapeutic approaches to re-finding life balance. Flow is a psychological state of being characterized by the person being completely immersed with focused awareness in their activity. Their vision involves creating a community that values self-improvement and mutual support through proven and experimental processes that increase the likelihood that flow states will arise.
On the grounds, there is abundant access to nature and ways to connect to the healthy things in life. Donnie explains, "We are trying to build a strong positive support network for these guys. We are not trying to dig into the politics too much – we are just trying to help people." The center offers ample opportunity for participants to become absorbed into tasks, training and social engagement.
Deliberate and measured use of cannabis is one of their flow seeking tools. The mildly psychedelic and brain calming cannabinoids have been shown to have long term effects in reducing the anxiety and depression that affect 1 in 5 returning war veterans. The state of Colorado recently donated $2 million to fund a MAPS directed study on the benefits of using cannabis to treat PTSD.
Donnie explains, "The alternative for a guy like me… has been suicide. So for us to introduce something like cannabis, whether somebody agrees with it or not, they should agree that we should take care of people when they get home. And that's all that were worried about."
Donnie and Tony's Backgrounds
After retiring as a decade long career as a police officer and narcotics detective, Donnie Bumanglag realized there was more to the cannabis plant than what he had been taught while on the force. No one ever mentioned that it is impossible to die from overdose of cannabis.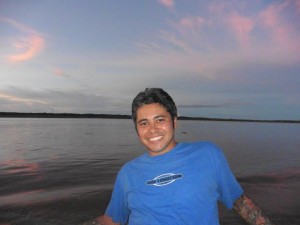 "That is crazy! So I started looking at sites like Leafly. Now I'm one of those people that smokes before Jiu-jitsu. I also do a lot of stationary bike stuff to find these flow states so I can deal with the issues that are in my head using a portable projector and dub style reggae like Rebelution from Santa Barbara to find these flow states, so I can deal with the issues that are in my head. I hope to create a really simple method that can be replicated for little cost by other vets."
Donnie was deployed overseas to Iraq in 2003 as a combat medic with 3rd Ranger Battalion and had his own PTSD issues to face. Graduating in the same small special ops medical class with Marcus Luttrell (of Lone Survivor fame), he could have sought celebrity status after some of the things he has done. "I could have gone that route," Donnie notes "but we're not trying to do any of that. What we're trying to do is walk with people. We learn from each other– every day laugh a little, every day learn a little. Just try to get better and help each other out. That's all were trying to do. If it catches, we're going to do the best we can."
As Donnie started dealing with his own PTSD issues, It became apparent that medical marijuana was one of the optimal treatments. As he transitioned from his work busting people for growing and distributing the plant, the path of open information and transparency seemed ideal."I feel that the best path to recovery is an honest one. Being an ex-Ranger and police officer and doing the things in life where I earned some respect, now it is my job to help out with the stigma with PTSD or with cannabis. I tell everybody that I smoke cannabis. Just because you have PTSD doesn't mean you're going to blow everybody up. Just because you smoke cannabis doesn't mean you're going to sit on your couch all day. I feel like there needs to be an expansion of consciousness. I tell everybody who has PTSD – who doesn't have a reason not to smoke – they should try it, because it isn't going to hurt you."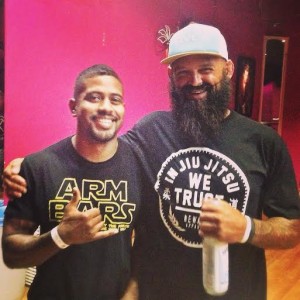 In addition to using cannabis as therapy, they also offer jiujitsu, physical training, and chartered group activities. Tony  Soto is the grappling instructor. (Photo insert: Tony is on the left. Tait Fletcher, right.)
Physical activity helped Tony cope with life after the war, so it was natural to suspect the methods that helped him could be beneficial to others. But he is a realist about there not being a silver bullet that works for everyone. "Not everyone is going to like Jiu-jitsu. Not everybody is going to like yoga. Not everybody is going to want to smoke or vaporize cannabis. But we are going to find their niche. It's a holistic approach to get them healthy."
Tony leads by example, and stays busy for someone who could be stigmatized as a stoner. He uses cannabis as a tool for recovery. He works out and is physically competitive. "And I partake regularly. The proof is in the pudding. If you use it strategically, you can improve in a lot of ways. And having PTSD, reaching that flow state… there is just something special about it. I figure a lot of things out when I'm there, in that flow state. Jiu-jitsu does it for me, the key is to find out what works for you. We're all about personalizing your recovery, and then constant optimization."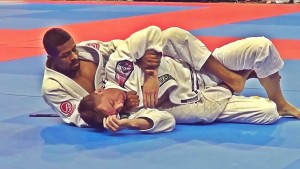 Donnie and Tony's Inspiration
Celebrity athletes, actors, and journalists have inspired the Donnie and Tony the most.
"Joe Rogan is by far the biggest inspiration to all of us. His podcast is not only revolutionary, he brought in all the other people." After listening devotedly, the two see people like Joe Rogan, Duncan Trussell, Amber Lyon, and Aubrey Marcus as the ones who are most effectively telling the story about the positive aspects of marijuana use. Donnie explains, "We are finding inspiration through them. If people tune in to what we're doing, we are going to be documenting the way that we're working out to break the stigma about what some that's would think Jiu-jitsu class is like or break the stigma about how you can use cannabis."
Describe guidelines for those who are trying cannabis for the first time
Donnie and Tony use cannabis for different reasons and appreciate the various characteristic traits. Some of the vets respond strongest to the plant's ability to open the doorways to being in a heightened sensitivity, honesty, and acceptance of war's effects. Some appreciate the benefits of cannabis use while they grapple or simply to relax afterwards and rest more deeply. As a Jiu-jitsu teacher Tony can't recommend that people smoke beforehand to get them in a flow state. "I get into the flow state pretty well without it. I wouldn't push anyone to follow any regimen. You have to find your own strains that work well with your own body. Before competitions I cut back. It reduces my sharpness and aggression just a tiny bit, but everyone's physiology is different. It really depends on the person."
Donnie sees the plant's usefulness a bit differently. "When you find that flow state, you come to your own realizations. A lot of the answers come from inside. Marijuana lubricates that interaction. There is something special about that."
Recently a vet approached Donnie and Tony about their program hoping to find relief with cannabis and the State of Flow Center. Donnie tells of the first time he introduced this man with PTSD and severe physical disabilities to cannabis.
"I gave him some medical marijuana. His whole face changed. And he said, 'I don't know how this is not the answer. I didn't know that this existed"
To learn more about State of Flow you can visit their website at loveliveflow.org
You can also contact them through these social media streams
Twitter @stateofflowvets
Facebook
For more information on using medical cannabis effectively and responsibly, please read "Guide to Using Medical Cannabis" published by Americans for Safe Access.