I don't smoke to get high. I smoke to become myself again…
Since childhood, Brandon Haw has been playing football. After a stellar career as cornerback playing for Rutgers University, Brandon played in the NFL beginning in 2004. From his earliest memories, he remembers himself as being "happy-go-lucky". His college years were characterized by discipline with a focus on health and performance. After a while he started getting bouts of depression. Anger began arising too often. The sport was taking its toll on him as it has on others. He knew of no cure.
At first Brandon thought his mood changes were a result of the game toughening him up. But his emotional swings became more intense and frequent. "A thousand situations happen in a day, but I might react totally differently. Yet it would be the same thing happening to me each time." Once he learned what others who had repeated head trauma were reporting, he had his suspicions. "I was small at 150 pounds when I got to college. There were no helmet to helmet rules back then. Being a small kid, I had to be brave to put my head in there."
Brandon tends to avoid pharmaceutical drugs for pain or anti-depressants. After football, he tried a few recreational drugs. He reports that most of them made him worse either during the high or the hangover the next day. Out of curiosity he began smoking cannabis in 2013. The positive changes he noticed in his quality of life caught his attention and fueled his desire to look deeper.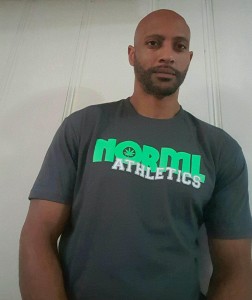 First Experiences with Cannabis
"When i was introduced to marijuana, it was pretty much the only thing that didn't make me feel like crap or make me feel zoned out." Instead it was the positive psychological aspects of the cannabis experience that caught his attention. "I like the version of me on marijuana. I'm more of a consistent person."
Feeling compelled to research the plant, he began learning how the dozens of natural chemicals unique to the cannabis plant interact with our bodies' own system of cannabinoids. The endo-cannabinoid system, he found, had been known about for decades but is not taught in medical schools. Brandon realized he needed to educate himself about how this plant brings him back to his normal way of being. "As i researched the plant, [i found] it's more of a regulator. There's something in it that makes sure things aren't too high or too low. It resets life to the way it's supposed to be."
The impact of the plant apparent once he started combing the internet for science and personal stories. "I was watching this lady, Mieko Perez, and she was talking about how her son was taking marijuana. She said that when he's medicated with marijuana, 'I see my son. It's him.' I go immediately back into my childhood and think about what my parents used to say to me. How I was when I was a kid. When I'm medicated on marijuana, it's the same exact person. It's not just about feeling good."
Brandon started seeing trends in what people were reporting when they tried cannabis. He was amazed at the plant's medicinal potential to treat conditions other than just brain injury.
"I've always been the type of person that looks into the heart of people. Even if they wrong me. After the trauma that's happened to my head through football, that didn't happen anymore. With marijuana, it brings me back to who I was before. It had become such a gradual change from who I was to who I'd become after the trauma that I didn't even recognize that it was me who I was when I came back. But if I didn't use marijuana, I would never have known."
Even though the side of effects of cannabinoids like THC and CBD can be pleasant and pain reducing physically, Brandon appreciates their ability to return him to a mental homeostasis.
"Sour Diesel is a good strain for me personally. My body just reacts well to it. I've reacted well to Blue Dream and Super Lemon Haze. It's me knowing myself. I don't smoke to get high. I smoke to become myself again."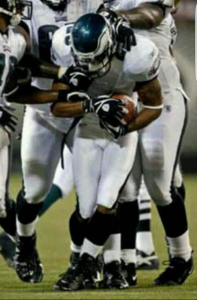 Gridiron Cannabis Coalition
NORML Athletics was first informed about Brandon's story by Gridiron Cannabis Coalition. Brandon is one of dozens of NFL players that are volunteering with Gridiron to grow public awareness about cannabis's ability to treat neurological conditions such as chronic traumatic encephalopathy (CTE) and to act a substitute for opioids as painkillers. The organization also is promoting the need for research to help players quickly dial in the cannabis varieties, dosages, and ingestion methods that work best for each.
The coalition founder is an attorney who has worked with California NORML. Michael Cindrich sees the organization as a vehicle for advocating NFL players' rights, educating everyone, and promoting new research.
"The focus of Gridiron Cannabis Coalition is on education, research, and treatment. On the education side, it's about educating the public about the medicinal benefits of cannabis. We do that through the players. They talk about their experience playing football. What football means to them. Their use of other prescription medications. The doctors are not necessarily looking to heal these guys. They're looking to put a patch on it, so they can keep playing."
The pressure to keep playing through injury is strong. Players do not want to admit to being concussed. If they do, they're taken off the field and another eager player is put in quickly. If the fresh guy has a big play, the hurt player may soon be looking for a new job on another team. There is a need to be tight lipped about injuries and how they are treated.
Cindrich explains that participating with Gridiron Cannabis Coaltion "is a great opportunity for these guys to talk about something they couldn't really talk about when they were in the league. They talk about their use of cannabis while they were playing. How they saw it as a medicine at the time, and how it's helping them later in life dealing with the long term injuries and illnesses both brain related and with their bodies."
The mission of Gridiron also focuses on determining the best medicines for former players. "On the research and treatment side, we are looking to open up centers across the country," as Cindrich pondered the next stage for Gridiron's efforts. "These are places where retired players can go where they can be introduced to natural holistic based treatments, including cannabis and different types of healthy eating. There is a special environment of doctors and nurses where they can detox from the different cocktails of prescriptions they've been taking for decades and introduced to natural treatments that include cannabis. We're starting to progress to the point, at least in the states where we have medical marijuana, and where we've had it for some time, we can identify different strains and ingestion methods. That's really what we want to do is provide opportunity for these players who are seeking different treatment to come in and ultimately study and collect data and analyze what we've seen."
Cindrich's stance is clear. "We've heard the commissioner say that he's waiting for science to show cannabis is legitimate. We want to present the NFL with our findings and put the NFL in a position where they are going to have to make a decision. Ultimately what we want to do is be able to show the public and the NFL that science is here."
Brandon Haw joined Gridiron to tell his story and participate in research, and become involved in the industry. Haw has been eager to see these types of organizations flourish. "Girdiron Cannabis Coalition and NORML Athletics are revealing all of these myths about marijuana. By showing all these athletes who are using marijuana and excelling, it's really opening up the eyes of the regular person who doesn't know yet."
Now that scientific research has revealed the plant's safety and efficacy is well-established, Brandon believes it's time for the NFL to adapt to new information. He eagerly points to the work of Dr. Mechoulam at Hebrew University. The Israeli doctor has been focused most of the last three decades on the body's endocannabinoid system (he discovered it) and how the plant's cannabinoids interact with it. Some of Dr. Mechoulam's research focused on cannabinoids and traumatic brain injury.
The US Government patent on cannabinoids as a neuroprotectant was filed almost a quarter century ago. The Department of Health and Human Services understands that some naturally occurring chemicals in cannabis protect the brain from injury and help the brain repair itself. "If you have all these NFL players and have a direct study for them right now, and if there is a substance that you can't overdose on, and it can't harm you, why wouldn't we make this the number one thing to test?" Haw wonders.
Public Education Changes NFL Policy
Considering the plant's long list of positive qualities and short list of risks, why would the NFL be reluctant to remove cannabis from its banned substances list? Brandon believes the answer is rooted in the league's loyalty to public opinion.
"I don't think the NFL is stuck in a new or old way of thinking. I think they're trying to find out the opinion of the public. I don't think they'll allow any testing on current players unless the public has some sort of outcry for it."
Because there is no approved cure for CTE, Brandon wonders why if 96% of NFL players appear to have it, the NFL wouldn't take a more open minded stance on allowing the use of a plant that the U.S. Government says has neuroprotectant qualities.
"Here is something that could possibly be a cure, and now here is a group of people who have known trauma, that can be tested, and the NFL is still saying no to it. It lets me know they're waiting on something else. And that something else is just an outcry from the public.
That's that direction that Brandon and Gridiron Cannabis Coalition are pushing. They think both active and retired players should work together in this effort. They see the future of the NFL regarding these policies as being in the hands of the older players. With a growing number of veteran advocates for cannabis in the NFL, Brandon knows policy change will come more quickly.
"Things could have been done differently. Things could have been done to protect the players better. They owe it to us a little bit to lean in the direction of the former players getting some type of medical benefit from this plant. The NFL should look at this a little more carefully."
Because of the tens of thousands of studies displaying cannabis's safety and medicinal potential combined with today's immediate flow of information, the negative stereotypes associated with cannabis continue to fade. Still, Brandon is amazed the stigma continues to survive considering the evidence against the accuracy of old drug war propaganda.
"There are a lot of households who still don't know. I didn't know [the stigmas were wrong] until i started trying something that I needed to survive every day. I was amazed at how my eyes weren't open. The youth have a chance because they have computers and the internet. It's hard to keep the stigma going when the truth is out there for everyone to see now."
Need for Science and Industry
As Brandon's interests have been piqued by the plant's potential and how the industry will incorporate new science, he's watching new doors open. His ambitions to become a cannabis entrepreneur are fueled by a sincere enthusiasm for what repeatable scientific studies reveal. He sees industry as being a way to help those in need right now.
"In the realms of testing anything for the health of society, you have to look at the risk and reward. The reward for cannabis for medical use is helping diseases that are not curable. If you can help those people and have something where the risk is… where you can't overdose."
Brandon is currently working on a sports-focused line of cannabis infused edibles. His plan is to make a minimal personal income and roll the profits into human research investigating cannabis as treatment for neurological conditions.
Brandon notes that ways of tracking individuals' optimal dosages, varieties, frequency, and mindsets is important. "There are different strain and varieties, right? I react differently with them. But if i have the same strain, i always react the same way. There needs to be a system in place for people to find their best strain."
Brandon's next pursuit is in the cannabis industry. He sees the value of research to support the existing studies showing the efficacy of cannabis. His hope is to develop a product line of edibles catered to athletes. He has also partnered with CannaFit as a way of collecting data on which strains work best for users with various conditions. Brandon sees CannaFit as being a useful tool in determining which varieties of cannabis, dosages, frequencies of use, and methods of ingestion are ideal in supporting a constantly improving quality of life. Brandon's intent is use proceeds from these endeavors to fund University research and ultimately help many others find their healthy selves again too.